Historic declaration of Kashmiri Hindu Heritage Day
GroundReport |
Author:
World News
Filed Under:
Politics
,
World
|
Posted:
12/08/2012 at 4:54PM
Comments
|
Region:
Florida | United States
It is significant for the displaced Kashmiri Hindus, who have been dislodged from the land of their birth due to acts of terrorism in the valley, to receive a proclamation from the Mayor of one of the largest cities of South Florida, North Miami. The proclamation declaring the third Saturday of November as Kashmiri Hindu Heritage Day was made at a function sponsored and organized by the author of Koshur Saal, Mrs. Chandramukhi Ganju, with the support of Kashmir Hindu Foundation, Inc., and North Miami Library.
The purpose of the function was to display Kashmiri Hindu culture, particularly its arts and crafts, architecture, wedding, cuisine, history, literature, poets, saints, sages and philosophers and create an opportunity to the world to learn and experience the Hindu culture of Kashmir through a visual voyage.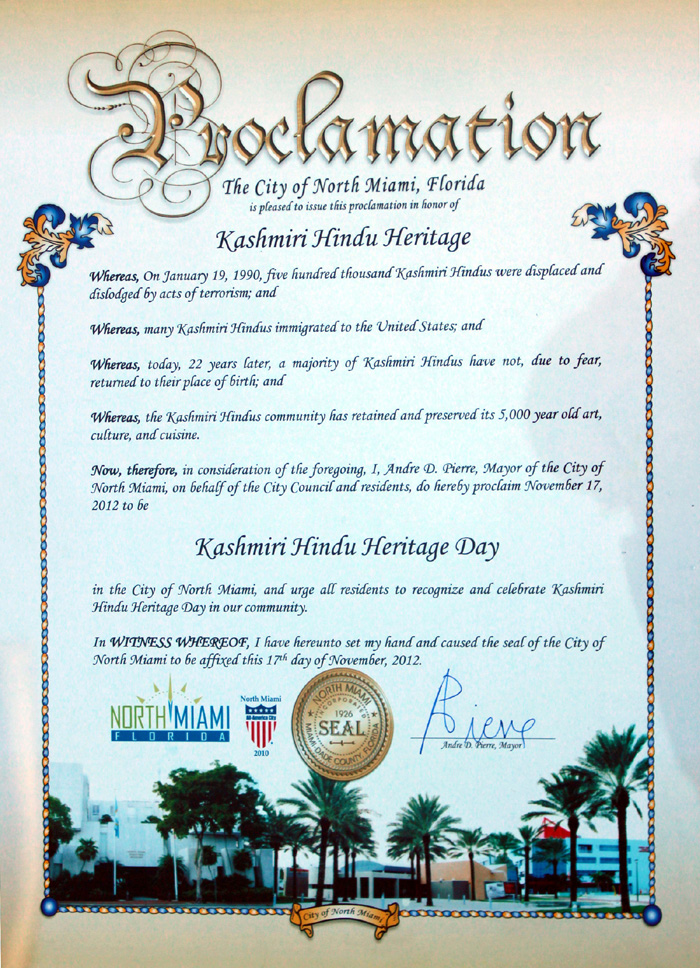 Handing down the proclamation amid traditional Shankh Naad and Ghanti (the sound of conch and bell), the City Mayor, Andre Pierre, said, "We in North Miami, which has such a wonderful diversity, are glad that we are part of this function that showcases Kashmiri Hindu culture". The Proclamation noted that 500,000 Kashmiri Hindus were dislodged by acts of terrorism and many of them migrated to the USA and today 22 years later, a majority of Kashmiri Hindus have not due to fear returned to their place of birth and this community has retained and preserved its 5000 year old art, culture and cuisine."
The resounding message of the program was that while one can take a Kashmiri Hindu out of Kashmir, one cannot take Kashmir out of him. The function proved a historic day for Kashmiri Hindus now forgotten community in India in that it was the first time a city Mayor recognized the resilience of Kashmiri Hindus. The Kashmiri Hindu Community will now be celebrating the 3rd Saturday of November every year as Kashmiri Hindu Heritage Day. It will inspire us to hold such exhibitions in other parts of the US. A Cultural Center will also be established in the city of Miami to showcase the richness of Kashmir Hindu heritage.
Photo Feature of the Event: http://www.shehjar.com/list/0/2194/1.html